Your wine cellar's climate is critical to the safety and proper aging of your wine. At Arctic Metalworks we pride ourselves on building and installing only the best commercial grade refrigeration equipment in your custom built wine cellar, then backing that up with a comprehensive maintenance and servicing plan.
Wine Cellar Refrigeration & Murphy's Law
Even then, as we are dealing with mechanical equipment, it's still possible to experience a failure. If you are familiar with murphy's law you will appreciate that if a failure is going to happen it is likely to occur at the worst and most inconvenient time. A time possibly during the hottest part of the year when you just happen to be away from home on an extended business trip!
Protecting Your Wine the Smart Way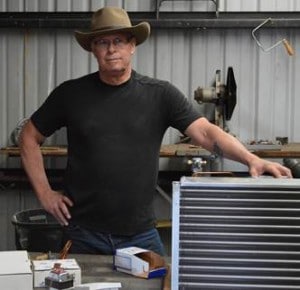 Now, imagine receiving an alert on your smart phone that your wine cellar's temperature is outside of a pre-defined range. One quick phone call or text message to Arctic Metalworks and while you are on the other side of the world, you can relax knowing that your wine cellar refrigeration system is being repaired free of charge and your precious wine collection is thus protected.
Or… imagine you return home to find your wine cellar, with its collection of over 1,000 bottles of wine, has been sitting at temperatures in excess of 80 degrees Fahrenheit for a week. Hmm, maybe that's not a good thought!
Arctic will install for you state-of-the-art refrigeration equipment that will give you peace of mind and ensure your precious wine collection is safe.
Don't forget to get your wine cellar regularly serviced with a maintenance plan!
Proactive Wine Cellar Climate Control – About the Equipment
The latest Skyport thermostat uses a mobile app that works with just about any mobile device. Clients can control their wine cellars temperature as well as reduce energy costs. This can be done from nearly any location around the world.
The system is compatible with Apple iPhone®, iPod Touch®, iPad®, Blackberry®, Android®, Mac and PC devices, this thermostatic system is suitable for residential and commercial wine storage facilities.
Monitor thermostat data, including current usage and system run times
Based on pre-configured notifications you can view incoming alerts, get critical updates on the health of the system or simply if the wine cellar's temperature has gone above or below pre-set limits
See current weather in a visual display including weather forecast for more thermostat locations if you have them
This technology can be integrated into a full home HVAC system for greater control and efficiency
Call today +1 (714) 251-6875 and get a quote for a Proactive Wine Cellar Refrigeration System