A critical but often overlooked component of a good custom wine cellar refrigeration system is an integrated humidifier.  To protect and age your wine collection properly, your wine cellar should really be fully climate controlled.  A wine storage room that does not have the humidity stabilized can lead to excess damp or excess dryness, either of which can cause significant damage to your wines.  This is especially true when wines are stored for long periods in Orange County California as well as in a number of other parts of the county.
At Arctic MetalWorks we are committed to provide a reliable product solution that we can stand behind and maintain though our service plans over the long haul.
Properly installed the Arctic BreezeComfort atomizing humidifiers function by diffusing a light mist into the return air supply duct of your wine cellar cooling system or possibly directly into the wine room itself.  Stabilized humidity is the result.
The Arctic BC707 wine cellar humidifiers feature status, fault and service required LED indicators as well as a humidistat, (Humidity Indicator).  The humidistat can be installed in the warm air return duct or on the wall in your wine cellar.  Should the humidity level dip below the required level, the humidistat will efficiently add additional humidity to the air.
Cost effective and Efficient Wine Cellar Humidity Control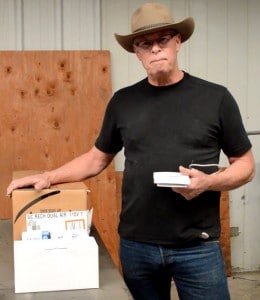 The Arctic humidifier unit is very efficient, wasting no water during operation and consuming less than 75 watts of electricity.  The unit can be purchased separately or installed by an Arctic Metal Work Technician into an existing wine cellar refrigeration system and then backed up with a full maintenance and service plan.
If you plan on installing the humidifier yourself, you can mount it on the ceiling, duct or wall of your wine room.  Water connections are straight forward push-to-lock fittings.  If you are unsure how to connect and integrate these kinds of units please do not hesitate to call Arctic MetalWorks +1 (714) 251-6875 for help or get a quote for a Wine Cellar Humidification System.