Climate control systems are the most important feature of custom wine cellars. Wine cellar cooling systems are specially engineered to achieve and maintain the best possible environment for long-term wine storage. Wine cellar refrigeration units ensure that the temperature inside the wine room stays within 55°F to 59°F, with humidity levels around 70%.
Wine cellar refrigeration California comes in a variety of sizes and cooling capacities, that can accommodate the unique needs and requirements of residential and commercial wine cellars. Choosing the right type of refrigeration equipment will help create the ideal climate conditions that will allow wines to age to their full potential.
Arctic Metalworks recently completed wine cellar refrigeration installation for a client in Yorba Linda, an affluent neighborhood in northeastern Orange County, California. Measuring 8' x 8' and with a depth of 30 inches, the newly installed residential wine room has a total storage capacity of 392 wine bottles. Arctic Metalworks, together with Jerry Wilson of Coastal Custom Wine Cellars and contractor Dave Lakin, converted a small arched space into a fully functional wine enclave.
Considering the limited space of the wine enclosure, Arctic Metalworks decided to install their smallest refrigeration unit, the Arctic 0025 or ¼ hp split system. A split system is the most efficient and quietest of all wine cellar cooling systems. This cooling system comprises of two parts: the evaporator unit and condensing unit. Separating both components not only allows flexibility in installation options, but also provides efficient cooling.
For the Yorba Linda refrigeration installation project, the Arctic team installed the evaporator component of the wine cellar refrigeration unit above the arched area of the custom wine room. A line set running 20 feet through the space between the first and second floor connects the evaporator unit to the condensing unit, which is located outdoors.
The wine cellar climate control system comes with a remote LED controller and thermostat that allows the client to monitor and manage the climate conditions inside the wine enclosure from his smart phone.
The cooling unit is encased in a lattice grill box with an operable grill cover (custom designed by Coastal Custom Wine Cellars), which conceals the mechanical equipment from view. It is made out of the same material as the wine racking system, creating a clean and seamless look inside the wine storage space.
As the leading manufacturer and provider of quality wine cellar refrigeration units California, Arctic Metalworks offers annual maintenance support contracts. For the Yorba Linda wine room refrigeration installation project, they will conduct two maintenance visits that include cleaning condenser, checking Freon charge and pressures, testing the pump down control, and clearing debris from outdoor condensing unit.
Apart from wine cellar cooling systems, proper insulation and a vapor barrier are essential elements to a custom wine room design. Applying insulation to all the walls helps maintain the desired wine storage environment, while vapor barriers stop moisture migration. Additionally, the presence of these materials allows wine cellar refrigeration California systems to perform efficiently and prevent the unit from overheating.
For this wine room design California and refrigeration installation project, general contractor Dave Lakin took care of applying proper insulation, installing vapor barriers and drywall to the wine storage space. In addition, Dave provided a drain termination point and indoor evaporator power receptacle, as well as installed brick veneer panels to provide a rustic look to the Yorba Linda residential wine enclosure.
Wine racking solutions were designed and installed by Coastal Custom Wine Cellars. The bottom half of the racking system is double deep, and consists of case lots, diamond bins and single vertical column for single bottle storage. Double depth configuration is ideal for a small wine room design, since it increases total bottle capacity of the enclosure.
The top part of the wine racking solution provides a single deep storage and display area that includes individual bottle openings with a high reveal display row, along with an arched tabletop. To the far left and far right of the wine racking system are cabinets and small drawers for storing wine glasses and wine accoutrements.
Additional features of this wine room design California and refrigeration installation project are reclaimed wine barrel flooring and a seamless glass entry door. Wine barrel flooring is constructed from retired oak barrels. Since no two barrel planks are the same, this flooring material creates a one of a kind appearance in the enclave. The installation of frameless glass doors adds aesthetic appeal to the entire wine room design.
Making a wine cellar requires careful planning and execution, from the wine room design down to the actual construction of the custom wine cellar space. Before making a wine cellar, consult with a wine cellar expert and a wine cellar refrigeration specialist to ensure that only the best construction materials are used and the right type of cooling equipment is installed.
Arctic Metalworks is the leading refrigeration specialist in Southern California. They provide the quietest and most excellent climate control systems, as well as high quality maintenance and service. The Arctic team worked with Coastal Custom Wine Cellars on numerous custom wine cellar installation projects.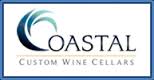 Coastal Custom Wine Cellars are the gurus of wine room design California. Aside from being an expert in designing and making a wine cellar, Coastal also builds and installs wine storage and display solutions, wine cellar entry doors, and flooring materials, as well as supply wine cellar cooling systems.