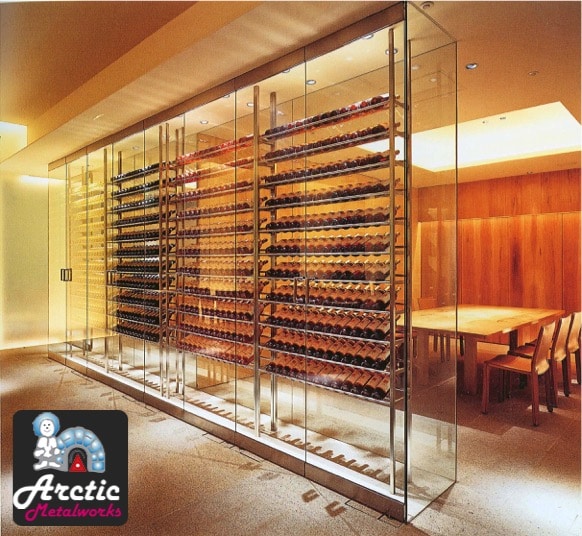 Arctic Metalworks Inc. is the very best wine cellar refrigeration contracting company in Southern California. For two decades we've served the area, specializing in the highly technical world of wine cellars, where the clientele expects the very best cooling systems and humidity control for their wine collections. We are also a turnkey wine cellar builder, able to build a wine storage room, cabinet, or display from start to finish. And we're a full service Heating, Ventilation, and Air Condition company, fully capable of fixing or replacing any climate control system. Learn more about our great local company and see how we might help you with your home or commercial project.
The Very Best Wine Cellar Cooling Contractors
When you're looking to install or service a wine cellar or wine room, you want the very best refrigeration expert in the Orange County, California area. Look no further then David Gype. He's been working in heating, ventilation, and air conditioning his entire life, having apprenticed with his father as a young boy. By literally growing up servicing refrigeration equipment, there isn't a climate control system that he can't fix or build.
The Climate-Control Experts That the Construction Professionals Trust
When construction companies and wine cellar dealers have tricky wine rooms to install, they come to David and Arctic Metalworks. Why? Because wine has very challenging climate-control requirements. It's vital that wine maintain constant conditions for it to mature properly. Any fluctuations in temperature and humidity can destroy a wine collection.
Commercial Grade Refrigeration Units Prevent Future Problems
This is where Arctic Metalworks's expertise comes into play. David installs the best refrigeration systems in his projects because he knows that it's not worth having that system break down, causing you to lose that wine investment. Whether the wine cellar is owned by a business or a residential homeowner, that wine collector wants their wine safe—and Arctic Metalworks knows how to maintain that system.
High Quality Wine Cellar Refrigeration Systems Save Money
Sometimes a local business or even a large luxury collector can fit hundreds of thousands of dollars worth of wine in a wine storage unit. They don't want their wine cooling unit to NOT do it's job. Which is why wine collectors and builders who understand wine storage come to David Gype at Arctic Metalworks if they want the job done correctly.
Wine Cellars Make Your Wine Taste Great!
Ultimately, if you love wine, you want it to taste really wonderful, right? So in the end, having a high quality wine cellar cooling system and custom tasting room installed by Arctic Metalworks is fun. And can also be a beautiful addition to your property, with custom racks, cabinets, and artwork, making it an artful focal point and favorite place to visit for you and your guests.
Do You Have a Wine Cellar Project?
If you are thinking of building a wine cellar or you have a system you want serviced, call David and his team and discuss how we can help. Whether your collection is small or large, whether you want a wine closet or a giant wine tasting room, you want your wine protected.
Don't Compromise Your Standards On Your Wine Storage Conditions
Don't rely on storing your wine in conventional refrigerators, boxes, or in cabinets. These will not provide the right temperature and level of moisture for long-term storage.
Not Just Wine Cellar Refrigeration: We're Full-Service HVAC Construction Company
Arctic Metalworks doesn't just work on wine cellars. We are a full-service HVAC contractor, so we can assist you with any Heating and Air Condition system for your home or business. If you have a project, CALL US or email us today to see how we can help.
Southern California Wine Storage Solutions
Residents of Riverside, Orange County, and Los Angeles love drinking and collecting wine. Although we may enjoy the mild climate here, that doesn't mean that it's optimal for storing wine. Heat fluctuations can destroy a wine that needs to be maintained at an exact temperature and humidity for it to mature properly.
This is why wine collectors, both commercial and residential have turned to Arctic Metalworks Inc, conveniently located in Corona, California to meet their wine cellar refrigeration needs. If you're in need of building a wine cellar, or your wine room's cooling system requires service, David Gype and his team of climate-control experts are the technicians you want to meet with.
HVAC and Wine Cellar Building Experts
David literally has decades of experience as a contractor, having apprenticed with his father as an HVAC, AC and Heating technician. Growing up fixing and installing heating and cooling systems has given him the experienced needed to handle any climate control system here in Southern California.
Whether you have a traditional Heating or Cooling System that needs repair or installation, or you're looking at installing a high-grade wine cellar for protecting your wine investment, Arctic Metalworks Inc. is the right company to consult with.
Temecula, Riverside Area Project
Check out how this project shows a split wine cooling system which can make a quiet wine cellar.
Yorba Linda Project
See this beautiful small wine enclave built in conjunction with Coastal Custom Wine Cellars.
Newport Beach Project
See how we fixed this wine cellar with major humidity and water damage here in Orange County.
Irvine Project
Learn about this highly customized residential wine cellar for tennis player Ray Moore.
Discontinued Pages:
Wine Cellar and Refrigeration Systems
About Wine Cellar Construction
Completed California Wine Cellar Refrigeration Client Project Features
Wine Cellar Refrigeration Services